Titleist Vokey Design Spin Milled C-C Wedges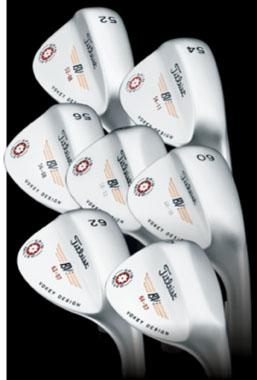 Conform to New 2010 U.S.G.A. and R&A Groove Rules and Provide More Choices for Players Competing in Events that Adopt New Groove Rule as a Condition of Competition
In response to the USGA and R&A rule change regarding grooves, Titleist, the most played wedge across the worldwide professional tours and the best-selling wedge line in the U.S. marketplace, introduces the new family of Vokey Design Spin Milled C-C wedges. These new "Condition of Competition" wedges provide optimum performance and shot control within the new guidelines and were developed following an intense and coordinated effort between Master Craftsman Bob Vokey, Titleist Golf Club Research & Development, and extensive player testing on the PGA Tour.
The new Vokey Design Spin Milled Wedges can be identified by "C-C" engraving on the hosel and gold paintfill in the Spin Milled logo (current Spin Milled wedges have red paintfill in the logo). Titleist Vokey Design Spin Milled C-C wedges will also include a face sticker that reads: "This Vokey Design wedge conforms to the new 2010 USGA/R&A groove rule and can be used in events that adopt the new rule as a Condition of Competition."
Vokey Design Spin Milled C-C Wedges are made from soft 8620 carbon steel and feature the face surface is precisely machined with a series of milled micro edges resulting in higher face friction than with a polished wedge face. The resulting additional ball spin retention achieved from this higher friction is particularly advantageous on partial shots, where grooves have much less impact on spin.
Vokey Design Spin Milled C-C wedges are available through authorized Titleist retailers with a manufacturers suggested retail price of $125. For more information about Vokey Wedges see www.vokey.com
---
Cobra's New ZL Driver with Adjustable Flight Technology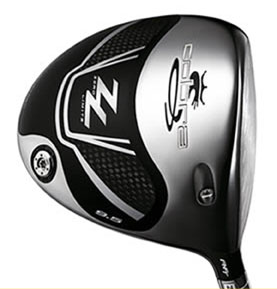 The ZL is a high-performance driver with a clubhead that is designed to maximize distance, accuracy and forgiveness. To optimize ball speed and thus distance, Cobra engineers utilized Advanced Multi-Material Construction in which a lightweight, high strength carbon fiber crown and sole insert are integrated into a titanium 6-4 clubhead body and clubface. The titanium clubface utilizes Cobra's patented Milled Rhombus laser-welded face insert plus a new, thinner perimeter area.
To complement the multi-material construction in the clubhead design, the ZL also features a swingweight screw which helps shift the Center of Gravity (CG) toward the heel, to help provide draw bias ball flight– while maintaining a square clubface alignment. Combine all of these design features with the longer 46" Aldila VooDoo shaft, and golfers will experience increased ball speed and optimum launch across the clubface. In addition, Cobra's exclusive Adjustable Flight Technology features an adjustable hosel that golfers can set to one of three face angles (O-open, N-neutral, C-closed) to provide a simple and quick way to optimize their personal ball flight.
With a suggested retail price of $425, the Cobra ZL driver is available in lofts of 8.5, 9.5, 10.5 and 11.5 degrees and with a 46 inch Aldila VooDoo graphite shaft, in men's R and S flexes. Lite and women's flexes, along with other shafts, are available through custom order.
For more info about the new Cobra ZL driver, see www.cobragolf.com or contact Cobra Customer Service (800-555-9282)
---

PowerStroke™ Full Swing Golf Grip by Macro® Golf
Of all the grips in golf only PowerStroke, the USGA conforming grip from Macro® Golf puts all of its patented, breakthrough ergonomic taper firmly into the fingers of a golfer's "left hand" (for right handed players) for measurably greater wrist flex and better shot control when playing.

The tapered shape of traditional golf grips was designed very long ago to keep the club in your hands when you swing; especially with slippery wet leather grips. This ancient tapered form that has survived to modern times, though efficiently resistant to the effects of centrifugal force, is the opposite of "ergonomic" in regard to the grasping hands and was never designed to support the critical elements of the set-up and execution of the golf swing.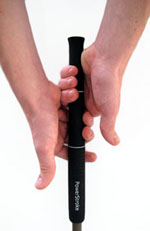 It shouldn't take an Einstein to figure out that the tapered form of traditional grips, being a non-ergonomic shape, is actually a hidden swing impediment; a silent, built-in handicap to which golfers eventually can get partially acclimated, but unknowingly, must combat for a lifetime.
This new grip is shaped to be grasped in the fingers and demands no alteration in a player's customary choice of conventional hands placement. In addition, because of an ergonomic configuration that markedly increases wrist-hinge flexibility, this grip permits a notable tension-free wrist/arm extension at setup to automatically minimize and/or eliminate the address wrist/shaft angle; a beneficial action unavailable with any other golf grip design presently in use. It is for this reason that this grip can have an advantageous impact for those players persuade that their shot improvement lies through adoption of facilitating a "One Plane Swing".
The ergonomic design of the PowerStroke Grips doesn't restrict wrist flex during the golf swing like conventional grips do, thereby making it simpler to facilitate an intended swingplane. In other words, golfclubs with PowerStroke Grips are much easier to aim.
How does PowerStroke's dramatically increased wrist hinge flexibility over conventional grips improve your swing?
It provides greater tension free wrist extension throughout the golf swing to promote the accuracy, consistency and power of the club head traveling from address to the "Top" and back down to impact... always on the same path, always "on plane".

The full tension free extension of a repeatable set-up and swing


The smooth wrist cock transition "at the top"


A more powerful, resistance free full extension through release and impact


Eliminates swing event spine angle changes and-swing "re-gripping"
PowerStroke grips shown in the relaxed fingers and in the firm grasp of the left hand
Conventional grips shown in the relaxed fingers and in the firm grasp of the left hand
PowerStroke Grips are available at www.macrogolf.com for only $9 each and only $7 each when you buy 4 or more! For more info visit www.macrogolf.com or contact Macro Golf Inc. at 877-270-9402 or email info@macrogolf.com
Laughter & GOLF,
THEY GO TOGETHER,
A New Book by Ron Heller

Ron Heller, author of two previous books, 'Golf is our Game' and 'Three Minutes that are Simply Fascinating' has been entertaining audiences for 50 years as an actor, MC and singer. Now! As the writer of the timely and extremely humorous book, Laughter & GOLF, THEY GO TOGETHER, Ron shows his versatility by offering hilarious stories on the game of golf as a change of pace to his motivational books.
Laughter & GOLF, THEY GO TOGETHER is filled with hilarious true golf stories that will have you rolling in the bunkers. In this book, Heller's not only tells the funniest golf jokes ever written but also in chapters like 'What you will do for golf' shares with readers, original golf verses that define the very meaning of the game.
You will never read anything quite so hilarious as the new handbook just released to golf stores and pro shops in mid Florida. Laughter & Golf by Ron Heller is the best antidote for depression and a great pick-me-up.
Laughter & GOLF, THEY GO TOGETHER as well as both of Heller's previous two books are all available on-line for only $12.95 each at www.laughterandgolf.com
---
Garia Golf Cars
Innovative thinking and quality craftsmanship make The Garia the only golf car in the world created with a meticulous attention to design and luxury. The result is a truly unique golf car that is guaranteed to give you an exceptional driving experience.

The Garia features an in-built refrigerator, hand-stitched seats, and an exclusive personalization program where you can choose to have The Garia painted in your favorite color or matched to your other cars. There is no doubt that you will get the most desirable golf car ever created.
Built to the highest standards of the automotive industry The Garia features a double wishbone front suspension similar to those found in sports cars and inspired by Formula 1 cars. The drive train is built by an Italian company that also produces Ducati gearboxes. The aluminum profiles in the frame are made by the same company that supplies aluminum profiles to Aston Martin, Jaguar and Volvo. Hydraulic brakes on all four wheels with discs in the front and drums at the rear. The Garia is manufactured at the Valmet Automotive factory in Finland, manufacturer of the Porsche Cayman and Porsche Boxster.
Designed by Danish designer Anders Lynge, The Garia follows the renowned Scandinavian tradition of clear-cut and classic lines combined with functionality. The Garia Golf Car is a complete reinvention of the traditional golf car. Unsurpassed in terms of luxury, design and quality, The Garia sets new standards for the golf car industry.
Prices start at USD $17,499. For more info about Garia Golf Cars see www.garia.com
Human Touch® CirQlation™ Pro Foot & Calf Massager
Walking 18 holes in golf shoes can wreak havoc on your feet and calves. Human Touch® CirQlation™ Pro Foot & Calf Massager. CirQlation™ Pro provides golfers with soothing pain relief and comfort after a long day spent at the course.
The CirQlation™ Pro Foot & Calf Massager contains the patented Figure-Eight™ Technology that massages the calves in an upward, rolling or wave-like fashion. This motion circulates blood from the feet toward the core of the body, allowing fresh nutrients to re-enter the calves and feet for greater healing and soothing comfort. Figure-Eight™ is a technology developed by Human Touch® that incorporates proprietary mechanics to drive its robotic actuators.
The CirQlation™ Pro delivers a remarkably life-like massage that emulates the expert hands and techniques of highly trained massage therapists. Only Human Touch® offers this patented technology.
The CirQlation™ Pro Foot & Calf Massager retails for $449 and is available at Specialty Back Care Stores, Fine Furniture, Major U.S. Retailers and at www.humantouch.com
---