Golf In National Senior Olympics
& Florida's Polk County Senior Games by Rob Mason
The Polk Senior Games have many talented athletes participating year after year. But one of the most successful has to be Janet Brown, 58, a Boston snowbird who lives in the Sandpiper development in north Lakeland. Brown's sport of choice is golf. She has a slew of gold medals that speak to her acumen. And one of them is from the National Senior Olympics in Pittsburg in 2005. "I had tied for the best score of all golfers in those Pittsburg Games," Brown said. "We even had to play in the rain, the last day."
Deena Wilbur, Executive Director of the Polk Senior Games, says she's the most decorated golfer of the decade in the State Games. And that's with her having participated in only seven of the past ten years.
Brown's athletic involvement started in high school. She played softball, basketball, field hockey, and tennis at Danvers High, about 20 miles northeast of Boston. She's even in the hall of fame at that school. "I enjoyed high school," she said. "I got introduced to tennis in my senior year and I played on the team. I played a couple years of basketball and a year of tennis in college, but it was kind of hard because I was a commuter."
It wasn't until 1991 that Brown got introduced to golf, by her husband, Stanley, who recently passed away. "That was the greatest gift he gave me," Brown said. "When I started, I took lessons from one of the top teachers in the country. I took them a couple years. It was a group lesson. After the second year, I got a hole in one. I thought, 'Oh, this is cool.' But I haven't had one since."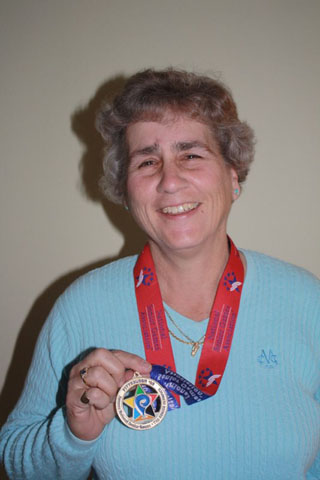 Janet Brown's shows us the Gold Medal she won for Golf in 2005 National Senior Olympics
Elaborating, Janet went on to say, "My teacher just gave me the basics. She was all about doing it to the best of your ability and having fun. Chipping was probably the biggest thing I learned and a little about the sand game," she continued. "I obviously learned about the stroke. Basically, she just gave me stuff to work with. Doing all the things I did before, particularly softball and baseball, the swing was just transferable from up above to down low with a different grip."
Brown gets out on the fairways three or four times a week. And she gets invited to play in tournaments all the time. Regarding her playing in the Polk Senior Games, she holds them in high regard. "They have chipping and putting in the games," she said. "They do the best job. I went over to the Tampa Bay games a couple years ago. They do a nice job also, but Polk County does the best, They're awesome. I wouldn't say it if it wasn't true. They all really get into it, to make it important to the people playing and to make them feel good and encourage them. I think it's great."