Trump International Golf Club also has the most spectacular collection of par threes of any golf course in Florida. As editor of Florida Golf Magazine, I came to this realization, New Years Eve 2010 while standing on the back tee of the 228 yard par three, 5th hole at Trump International.

The back tees of the long 228 yard, par three 5th Hole at beautiful Trump International Golf Club in West Palm Beach, Florida.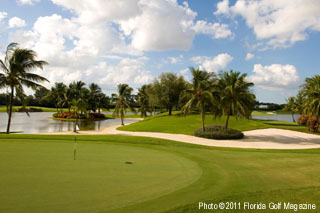 This is the view, looking back from left of the 5th green, on the par three 5th Hole of the Championship Course at Trump International Golf Club.
Par three golf holes are an integral part of every golf course design, but at Trump International Golf Club they're more than that …much more. The first par three at Trump International is seldom mentioned in brochures or magazine articles. Perhaps this is because it's overshadowed by the reputation of the mountainous 2.5 million dollar waterfall on the par three, 17th. Yet, as I looked out at the superbly designed green complex of the distant 5th Hole, it was obvious to this editor that this beautifully ornamented Par 3 could pass as the starring signature hole anywhere else in Florida.
Then, without warning, who should pull up totally unannounced; but none other than the golf course owner himself, Mr. Donald J. Trump. Trump, the self-made billionaire and host and co-producer of the mega-hit reality show "The Apprentice" is an avid golfer with a real passion for the game. He started playing golf while he attended the University of Pennsylvania's Wharton School of Finance. His handicap has been as low as one, but because of the time constraints of his hectic schedule, he now plays to a four handicap. He doesn't drink or smoke, but its fair to say that he very much has golf in his blood. His mother was born and raised in Scotland, 'the home of golf' so he comes by his love for the game quite honestly.
Sitting next to him in his golf cart was his four year-old son, Barron. Looking very much like a team in a father-son tournament, they were dressed in matching golf apparel; white pants and shirts and red ball-caps. "Hi fellas," Trump said to my golf partner, Dr. Gary Wiren and me, "Are you guys having fun?" "Oh yes," answered Gary, "it turned out to be a beautiful day."
Then, just like a normal father, Trump introduced his four year-old son with the greatest of pride, saying, "Joe, this is my son Barron. Can you say hello, Barron?" Then, with a wee bit of an Austrian accent that he picked-up from his grandfather, four year-old Barron spoke right up, saying, "I saw a helicopter, with spinning blades!" Beaming, and looking quite serine, Trump concurred, "That's right son."
Thinking quickly, I grabbed my tiny digital recorder and then, addressing our gracious host, I said, "I love this long Par three, Mr. Trump, but something seems different about it since we played it last year." Mr. Trump grinned and then kindly pointed out, "That's because since then the tees have been reshaped slightly and I had the back tees moved to the right and made significantly larger. We did that because the trees on the left side of the hole had grown so big that a large part of the golf hole was obstructed from view from the old back tee. Now, the hole looks and plays much better from the back tees. There's also more room now to move the tee markers around, which is always nice on a par three."
Elaborating, Trump went on to say, "I like the balance in the par threes on the original 18 holes here at Trump International because they give you tremendous variety. With #5 being 228 yards, then #7 is 191, and then #11 is 171 yards and of course #17, the signature hole is 215 yards, so we have a nice balance. You get to use four different clubs on four different par threes, which is a good test of course design."
"Speaking of design," I said, "Jim Fazio did a nice job designing this course didn't he?" Trump answered, "Jimmy did a wonderful job, he's an artist and Trump International is his proverbial Mona Lisa." Trying to be funny, I then quipped, "Since you have more money than the Pope, I would say that Jim Fazio was more like a Michelangelo than a De Vinci, and Trump International was his proverbial Sistine Chapel." Not amused, Trump remained stoically silent. He didn't even blink.
Donald Trump is a very involved golf course owner, and is seen here directing his golf course superintendant, Andy Kjos.
Donald Trump is a lot of fun to play golf with, but he doesn't joke around a lot. He is however a very personable guy and is also very generous with words of encouragement to his fellow golfers. Built like a linebacker, at 6 foot 3 inches tall he can and does drive a golfball 280 yards with very little effort. Like a lot of people, he spends a good part of the winter playing golf in Florida, and there is truly no finer golf course to play in Florida than the Jim Fazio designed, 18 hole, par 72 course, nor the 'New Nine' at the ultra-private Trump International Golf Club.
Addressing Trump, I then said, "You're pretty much a hands on kind of guy as far as working on the golf course is concerned, aren't you, Mr. Trump?" Trump replied, "You know, the thing is I really love doing it. This golf course is so beautiful and I'm very proud of it. This is fun for me." With that said, the billionaire Scotsman and his 'wee bairn laddie' said their good-byes and left us to finish our round of golf.
After my golf partner, Golf Teacher Hall of Famer, Dr. Gary Wiren eagled the next hole which was the reachable par four, 335 yard, dog-leg right 6th Hole, we came upon the second par three at Trump International, the very challenging and beautifully ornamented 7th Hole. Precariously guarded from the back tees by a 191 yard carry over water, the 7th seemed progressively more spectacular than the previous yet much longer par three 5th Hole.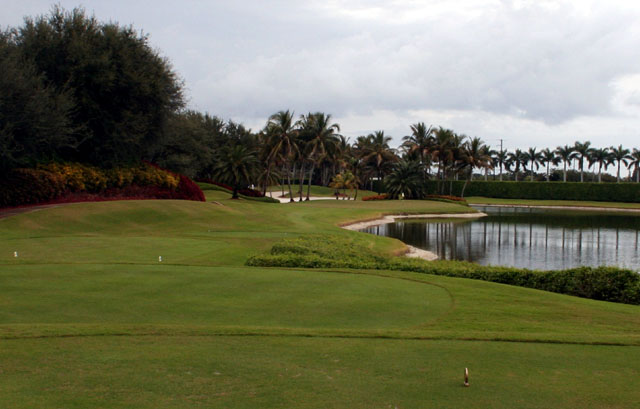 The view from the forward tees of the par three 7th Hole at Trump International Golf Club
Spectacular par threes are very much a reoccurring theme at Trump International Golf Club, and as we continued on, playing all of its 27 holes that day, Dr. Wiren very graciously explained for me and the readers of a later to be published issue of Florida Golf Magazine the intricate strategies entailed in the design of each of the world class par threes at Trump International Golf Club.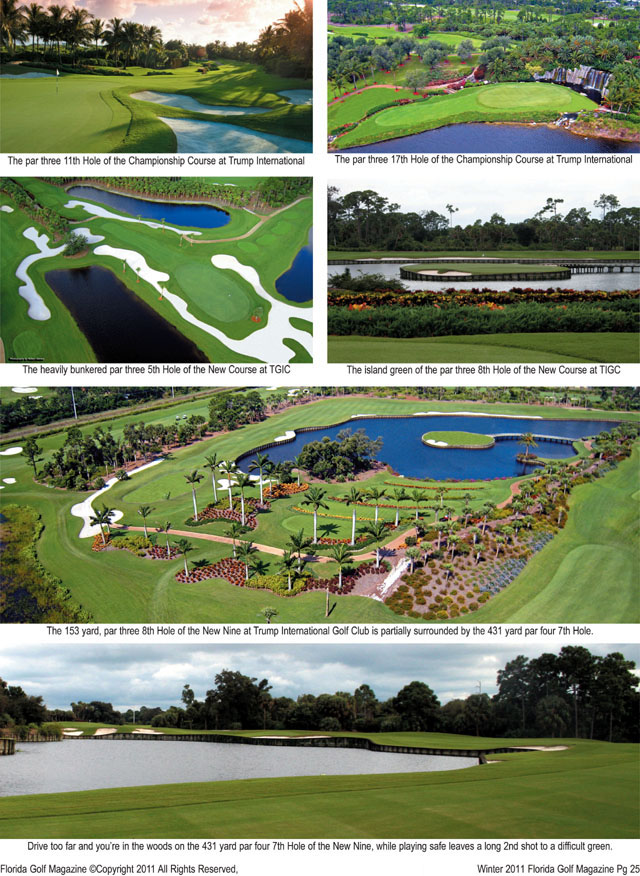 At one point during the our round that day, Dr. Wiren explained, "The real trick in golf course design is being able to execute the aesthetic beauty without taking away from the true golf experience." Upon hearing those sage words from the 75 year old PGA Master Professional, it became crystal clear to this editor why Trump International is Florida Golf Magazine's 2011 Editor's Choice for Florida's Best Golf Course.
Florida is and always will be a great golf destination, and there is certainly no shortage of great golf courses here, nor great architects. But, it is also equally true that there is no finer golf course to be found in the Sunshine State than Trump International Golf Club in West Palm Beach, nor is there one that exemplifies a more pure golf experience.