"The goal of this 'all-inclusive' open tournament is to "have fun playing golf, while raising awareness of accessibility issues concerning golfers with disabilities and/or mobility challenges."

Golf is an individual sport that breeds unique characters. No two golfers are exactly alike; hence, no two swings are exactly alike. It is said that a golfer's swing is a very personal thing, much like one's religion. Each golfer must learn to repeat a swing that moves the clubhead into impact in the most consistent manner possible based on his own body and what it can do. Golf is the culmination of mind and body integration and significant improvement as a result of participation in the game demonstrates determination, patience, and growth as a person.
There truly is something about golf that brings out the best in a person, and nowhere is this made more evident than at the Florida Open Golf Tournament for Golfers with Disabilities and/or Mobility Challenges. The 6th annual contesting of this all-inclusive golf tournament was held on October 15th, 2011, at Long Marsh Golf Club in Rotonda West, Florida. The 2011 open tournament was played on Long Marsh Golf Club's prestigious Ted McAnlis designed White Marsh & PineValley Courses, and was an inspiring success and a lot of fun for all the participants.
This annual open tournament was founded in 2006 by Florida Golf Magazine with the help of some initial 'much needed' guidance provided by the National Alliance for Accessible Golf. Just as it has been since its inception, this tournament is definitely not-for-profit. The bare-bones entry fee of $50 has always included 18 hole green fees, an award banquet, range balls and prizes. This open tournament raises no money for any cause, nor does it try to get anyone to join any organizations or foundations of any kind. The goal of the 'all-inclusive' open tournament has always been to have fun playing golf, while raising awareness of accessibility issues concerning golfers with disabilities and/or mobility challenges.
The generous folks at Long Marsh Golf Club very graciously hosted this not-for-profit tournament and course owner, Bill Stine should be commended for volunteering to be involved with the 2011 event. Long Marsh is a prestigious venue and all the players were grateful and very much appreciated the conditioning of the course and its ambiance. The 2012 open tournament is already scheduled for October 13, 2012 and will take place at Kissimmee Bay Country Club, which is another golf course owned by Bill Stine.
In 2011, this very international tournament included golfers from the United States, Italy, and United Kingdom. An eclectic field of 41 golfers participated, rallying to raise awareness for accessibility issues concerning golfers with disabilities and-or mobility challenges. But more importantly, they came to bond with their peers and support one another while having fun playing golf.









Winner of the 2009 open tournament, Ian Halliwell came all the way from England
to play in the 2011 Florida Open Tournament for Golfers with Disabilities.
Participants of the 6th annual tournament included golfers of all levels of abilities and disabilities. As in previous years, several members and representatives of the Amputee Veterans of America Support Team (AVAST), Eastern Amputee Golf Association (EAGA), Southern Amputee Golf Association (SAGA) and the National Amputee Golf Association (NAGA) competed in the open tournament, some of whom wore prosthetics and some who didn't. But make no mistake; this all-inclusive tournament was not just for amputees. There was a diverse group of golfers participating that were mobility challenged from the effects of a wide range of conditions, including strokes, paraplegia, and traumatic brain injuries.
In a conscious effort to be all-inclusive, golfers without disabilities are also always encouraged to play in this open tournament, along with their friends with disabilities, and are eligible to compete for the Overall Low Gross Award, and of course, anyone with a USGA Handicap is also eligible to compete for the Low Net Awards. As always the player with the lowest gross got the honor of having their name inscribed on the permanent open tournament trophy.
"Addressing the needs of golfers with disabilities is more than just the right thing to do, it's good business."
Making an investment in golfers with disabilities is a hot new trend in the business world, and according to a census bureau report, one in five U.S. residents has a disability. That's about 18% of the U.S. population or 56.3 million people with disabilities. More and more people, such as inventors, designers and golf course owners, are now making an effort to address the needs of golfers with disabilities. This 'all-inclusive' open tournament allows everyone have a lot of fun while raising awareness of these issues.
Tournament winner, Dale Dawson (in red) played in the tournament with his friend John Barton, (seen here wearing Dale's invention, "The Release,") and David Del Purgatorio Sr. and David Del Purgatorio Jr. At age 8, David Del Purgatorio Jr. was the youngest golfer in the tournament for the second year in a row.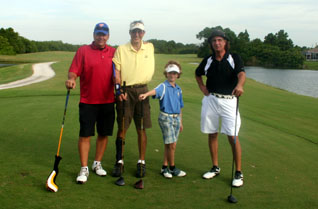 2011 Champion, Dale Dawson
The 2011 tournament was won by 47 year-old Palm Beach Gardens resident, Dale Dawson, who shot a gross score of 71. Dale is currently a scratch golfer and plays golf most of the time at the Abacoa Golf Club in Jupiter, Florida, and he has an interesting story that very much exemplifies the type of message and spirit that this open tournament tries to convey.
About eight years ago, Dale became very ill with convulsions cause by debilitating brain tumors. Though they were not deemed cancerous, they incapacitated him and caused him to have tremors that left him unable to play golf. Then, five years ago while his doctors experimented with drugs to control his symptoms, Dale took it upon himself to invent a device he now calls "The Release" to assist in retraining himself to play golf again after not being able play for 2 plus years.
Dale Dawson told us, "The overall design of the device is inspired by exoskeleton science and bio mechanics. The device simply attaches to the outside of the golfers arm and helps to ingrain the proper bio mechanics to create a very efficient and powerful golf swing."
Long time member of the East Amputee Golf Association, John Barton is shown here teeing off in the tournament using "The Release," a golf training device invented by Dale Dawson. Dawson, who won the 2011 tournament is seen above in the background.

Playing golf with one arm, John Barton from Palm Beach Gardens, Florida is shown here using Dale Dawson's invention called "The Release" during the open tournament.

John Barton
Five long years later Dale is doing much better. His doctors now have his tremors under control with medication; what's more he's perfected his invention and is helping others with it. Dawson, now a scratch golfer uses his invention, called "The Release" to work with his friend John Barton, a long time member of the East Amputee Golf Association. Barton had been training with the device for a few weeks before the open tournament and also played in the tournament using it. Barton, a one armed golfer who has competed in the 'Florida Open for Golfers with Disabilities' for the last five years in a row, swears by "The Release." He says it helps him develop muscle memory."
Dale Dawson says that he has started a new company with his golf instructor PGA Master Professional Warren Bottke, called Da Vinci Sports International Inc., and they will soon start marketing "The Release" at www.godavincisports.com Dale also said that with Warren's help, one product has grown into a collection of 5 products that can be used to help "able" body golfers and golfers with disabilities. Dale or Warren can be contacted at davincisportsinfo@gmail.com
Besides getting his name engraved on the permanent tournament trophy, Dale also was presented with a new Titleist 910D Driver by Master of Ceremonies, David Windsor, PGA, of the Adaptive Golf Academy for winning the Low Gross award.
8 year-old David Del Purgatorio Jr.
Very much impressed with the tournament and all its participants for the second year in a row, David Del Purgatorio Sr. said that as far as he was concerned, the experience was priceless for his son David Del Purgatorio Jr. "When Dave Windsor first invited us to participate in last year's tournament," he said, "I didn't know how my seven year-old son was going to react. Being so very young made him different than everybody else, so he was in the same boat that they were, yet no one looked at him funny. That was very cool. Just like last year, young David Jr. felt like he was just one of the group and that was truly great. We had a ball; I can't wait to do it again next year."
While competing in the open tournament, stroke survivor Ian Halliwell (from U.K.) simultaneously coaches his friend. Ian is seen here acting as caddie and mentor to his "mucker" (best chum) Charles Brugh from Orange Park, Florida, who is a Traumatic Brain Injury survivor.
Charles Manning Brugh, a.k.a "Brew"
All the participants got along very wonderfully, and since there were voluntary early tee times provided, (a full hour before the normal 8:00 am shotgun start) for any foursome who thought they might be a wee bit slow, "Pace of Play" was not an issue either this year. At the open tournament back in 2010, we learned that some players very deservedly needed a little more time. In particular the tournament's only TBI (Traumatic Brain Injury) survivor Charles Manning Brugh, also know as "Brew".
Brew, who is more than just the open tournament's token TBI survivor, is thought by many to be one of the most noteworthy golfers at the tournament. You see, although Brew walks and talks slow and methodically due to his TBI, he is really a very articulate writer and has previously written very moving and informative articles that were published in Florida Golf Magazine about what the open tournament has meant to him.
Since playing and counting every stroke was is so important to Brew, his foursome teed off at 7am. Ian Halliwell, the winner of the 2009 open tournament, who had once again come all the way from the U.K. just to play in the open tournament, had also taken it upon himself just as he had done in the 2009 & 2010 tournaments, to be Brew's playing partner, mentor, coach and personal English caddy. Therefore, Brew gets better and a little faster every year.
While competing in the open tournament, stroke survivor Ian Halliwell simultaneously acts as caddie and mentor to his "mucker" (best chum) Traumatic Brain Injury survivor, Charles Brugh.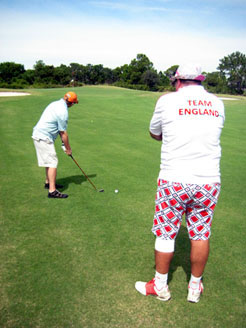 Ian Halliwell (Representing U.K.)
For some of the participants, the annual golf tournament is a chance to look within and hopefully widen the scope of their abilities. For others it's more of an opportunity to look outside of their own selves and learn by focusing on the issues concerning their fellow golfers. Stroke survivor, and the 2009 1st place tournament winner, Ian Halliwell always does a little of both.
Ian Halliwell who had initially lost the use of the left side of his body, due to a stroke, said that back in 2009 he was most positively influenced and encouraged to win by his playing partner in the tournament who was a Traumatic Brain Injury survivor. "I am humbled in his presence," said Halliwell of his playing partner, Charles Brugh. "I hope we remain good friends, in good health, and that I can be a little part of his continued remarkable story."
"Meeting people like Charles" (aka Brew), said Halliwell, "makes my campaign to raise stroke awareness all the more worthwhile. I hope that he his able to join up with me when I hit Florida on my Round the World Trip next year."
Ian Halliwell's golfbag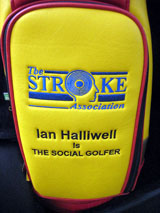 Ian Halliwell, has dedicated a large portion of his life to raising stroke awareness by telling others how his recovery was facilitated by golf. Ian also has spent a great deal of his time tirelessly fund-raising around the world for The Stroke Association. (www.stroke.org.uk) by organizing celebrity tournaments and by publishing a book entitled 'The Social Golfer'.
The Social Golfer started as a travel and golfing journal published to raise funds for The Stroke Association and grew to include the Social Golfer web-site and blog (thesocialgolfer.blogspot.com) where you can follow Ian's tireless fund-raising golf trips around the world.
Prior to his stroke in December 2006, at age 48, Ian was an avid golfer and had enjoyed many golfing trips to the Costas, Tenerife, Tunisia, and South Africa. Playing to a handicap of eight, he still harbored dreams of retiring and trying for his card on the Seniors Tour, but those dreams were dashed just days before Christmas of 2006 when he suffered a major stroke which caused total disability to the left side of his body, leaving him unable to speak or move.
"I still have aches and pains," says Halliwell in his book. "My left side is still slow in relation to the rest of my body. My leg causes grief periodically. When asked by the doctor how I feel, I usually reply, 'Uncomfortable, not ill,' to which he often replies, 'We cannot do anything about discomfort, it comes with the territory.'
Later in his book Halliwell, who went from an 8 handicap before his stroke to a 17 handicap after his stroke said, "With golf, my swing is now much more secure without the rotating hips of my left side." He also states, "Golf is such a big part of my life and has been the catalyst for much of my recovery."
In regard to the stress of taking golf too seriously, Ian now says, "Since my stroke, my golf game has not worsened at all. Indeed, because of my medication, I presume, I no longer fret over four footers. I simply hit and if it goes in, that's great, if not, so what. My score is irrelevant. I now play the way the elders intended golf to be played. You start at A and end up at B and play wherever it rests in the meantime, with no drops, and no preferred lies. Seven is not a dirty number, taking seven is better than not playing at all.
I love playing and being in the company of good players - you cannot fail to admire their skill and technique. Mulligans," he goes on to say, "are a thing of the past. Every shot is important; you never know, it could be your last so enjoy it."
Halliwell's book details his amazing and inspirational recovery and return to the golf course after just over a year. The book also details how he is heeding Pro Golfer, Bernard Hunt's sage advice to "become the best damn social golfer on the planet".
"I know that there are many people out there who feel beaten by a stroke," says Halliwell in his book. "Progress can be so slow and frustrating that it often seems easier to just give up. Golf helped me focus on my recovery and I'm hoping that my journal will help others find their own motivator."
2012 Open Tournament
If you would like to have fun playing golf, while raising awareness of accessibility issues concerning golfers with disabilities and/or mobility challenges, the 7th Annual Florida Open Tournament for Golfers with Disabilities and/or Mobility Challenges will be held on October 13th, 2012 at Kissimme Bay Country Club in St. Cloud Florida. For tournament details see www.floridagolfmagazine.com/open
or call the tournament director, Joe Stine at 863-227-2751 or contact by email at joestine@floridagolfmagazine.com