All the places appearing on the map are identified by idividually recognizable, coded icons.


The Never-Search for Golf Travel Map
a golf oriented travel planning tool for 18,475 courses
Golf Product Review by Joe Stine, Editor - Florida Golf Magazine
For golfers that enjoy traveling and playing different courses around the country, finding, selecting and keeping track of courses they want to play can be a difficult and time consuming and often frustrating task. As the Editor of Florida Golf Magazine, I recently spoke with Keith Kreft, CEO of Never-Search. He gave me an overview of this extremely cool, computerized travel map program called Never-Search for Golf.
Never-Search for Golf is an updateable software map that installs on your PC and shows the exact location of every golf course, driving range and retail golf shop in the country. By clicking on any coded flag appearing on the map, a detailed information profile of the facility opens, making it extremely easy to find, qualify and select courses to play in any area being visited. The golf course information includes everything you'd want to know about the course to decide whether to play there, including the number of holes, back tee yardage, greens fees, slope, rating, address, phone number, whether it has a driving range, course designer, and if the course has a website, there's a link to it, saving hours of Internet searching.

All of the places appearing on the map are identified by individually recognizable, coded icons. Even the golf courses have distinctive, color-coded flags for private, resort, municipal, semiprivate, military, public and university courses, so you can tell the private courses from any of the public courses at a glance.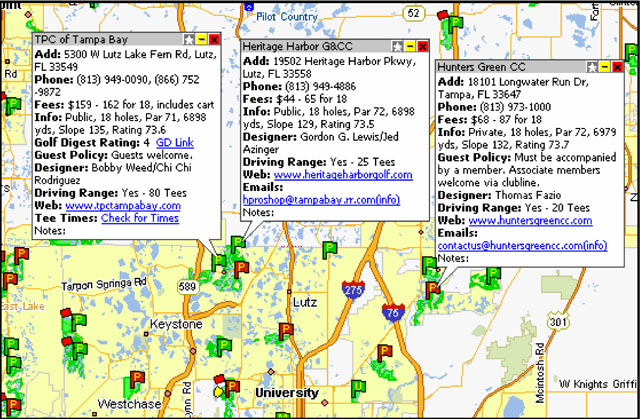 Double click any coded flag to view course details, including links to websites.
What makes this program extremely unique from the Internet maps is a street map of North America is included as part of the installed program. The initial download/installation loads six million miles of streets, so once installed, the map can be navigated without depending upon an Internet connection. As a result, the program is blazingly fast – it can display all 18,475 US golf courses on a zoomed out view of the continental US in about 4 seconds. For any of you that have ever tried to find where more than one golf course is located with relation to where you're visiting using the Internet maps, you will absolutely appreciate what this software can do.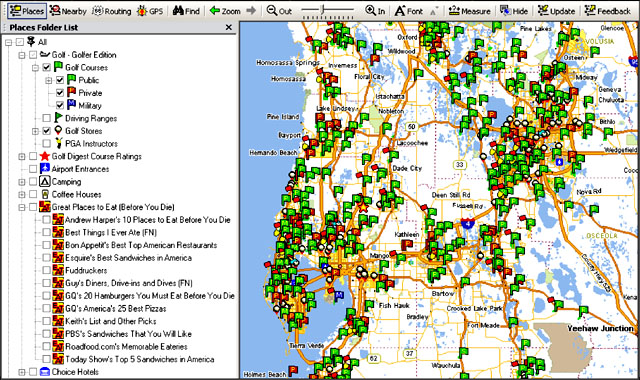 Never-Search for Golf displays combinations of items simultaneously by checking folders for golf courses, coffee houses, places to eat, hotels and more.

Another unique feature over the Internet maps is combinations of places can be selected to appear on the map simultaneously just by checking or un-checking folders or subfolders in the Places Folder List. The map includes other places of interest to travelers such as airport entrances, lodging, coffee houses and fun places to eat, so you can quickly find the nearest coffee house along the route between your hotel and the course you are playing that day. Should the course you're playing not have a driving range, and you're like me, and need to hit a bucket to warm up, just click on the driving range folder to find the nearest one, or view the profiles of other courses along the route. There's also a Golf Digest Rating folder, making it easy to see where, for example, all the 5 or 4.5 star rated courses are located.
Personal locations can also be added to the map by entering an address and then labeling it, so you'll never have to search for these special places again. These found locations are kept in their own folder which is independently selectable for display along with the golf courses, restaurants, etc. For those of you who return to the same locations regularly, this is an indispensable tool for keeping track of favorite places to eat, friends in the area, places you've stayed (and what you paid), and locations of convention centers, receptions, weddings, etc.
If you've ever been fooled by an Internet map showing totally incorrect course locations, you will appreciate that according to Kreft, "all of the Never-Search golf course flags mark the entrances to the courses to within a five iron. It's incredibly accurate." Even with Dustin Johnson's five-iron, we're only talking 200 yards. Flags marking course entrances have been verified, unlike other maps which can place a flag in the center of the course leaving you to guess where the entrance might be, or even worse, place the flag in the center of the city, or center of the zip code when the street address can't be found. According to Kreft, nearly 30 percent of the golf course entrances are mapped inaccurately or are missing from the Internet maps. Trying to guess where the entrance of the course is by viewing an outline of the course with a bunch of roads leading into the complex is not the game, Kreft says, the golfer wanted to play.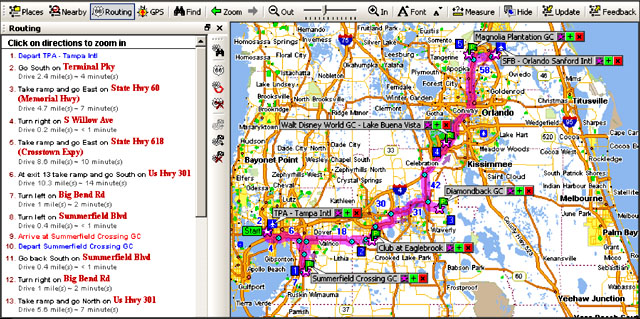 Create and save custom golf trails with routing and turn-by-turn directions.

The program also has an extraordinary multi-location routing feature. You tag all the places you want to visit, and select where to start and finish, and it displays the optimized route along with turn-by-turn directions. Travel plans with routes can be saved and named as files just like any other document. What's amazing is, if you travel with your laptop, you can open these files en route to your destination, either on a plane or in a car, and fill in travel details, adding a restaurant or a coffee house. What else are you going to do on the plane?
Speaking of which, the program works with any GPS receiver having a USB connector. When connected, it shows your location on the map. Kreft flies with one having a suction cup that he sticks to the window of the plane. He can look out the window and identify exactly where he is and what courses or cities he's flying over. He said if he would have been on the plane that overshot Minneapolis by 150 miles last year, it wouldn't have happened. He would have notified the flight attendants to check on the pilots!
All the places appearing on the map are updateable from the company's website. The map has an "Update" button which refreshes all the data. New places which complement the golf experience are always being added. The included restaurants are primarily comprised of collections of fun and funky places to eat in a folder titled "Great Places to Eat Before You Die." They are collections of fun and "best" restaurants gathered from a variety of sources, including every joint visited by Guy Fieri on the Food Network's Diners, Drive-ins and Dives TV Show. Other collections include; Esquire's Best Sandwiches in America, PBS's Sandwiches That You Will Like, Bon Appetit's Best Top American Restaurants, GQ's 20 Hamburgers You Must Eat Before You Die, Today Show's Top 5 Sandwiches in America, Andrew Harper's 10 Places to Eat Before You Die, and more, including Kreft's personal favorites and restaurants recommended to him by friends and map customers which are worthy of inclusion. The information details include
"What's special" about the place, in other words, what to order. Rather than showing every restaurant in an area you're visiting, and may not return to, and reading endless comments and ratings by readers, wouldn't you just rather see where the special places are? In San Jose, there's a restaurant called Tony Dimaggio's run by a second cousin to Joe Dimaggio. Kreft writes, "Don't even think about ordering anything but a Stromboli. Medium serves one, large serves two. If you make the mistake of ordering a large for just yourself, don't worry, you'll probably finish it."
By the way, the program also has a feature that allows you to mark every course you've played or want to play (your bucket list). For you traveling golfers wanting to play a course in every state, this is the perfect tool to view your accomplishments.
The Never-Search program costs $39.95 and is available through the www.never-search.com website. It can either be downloaded from the website or installed from a DVD, and it includes one year of course updates. Florida Golf Magazine readers can also receive a 10% discount by entering "FloridaGolfMag" as a Promo Code.