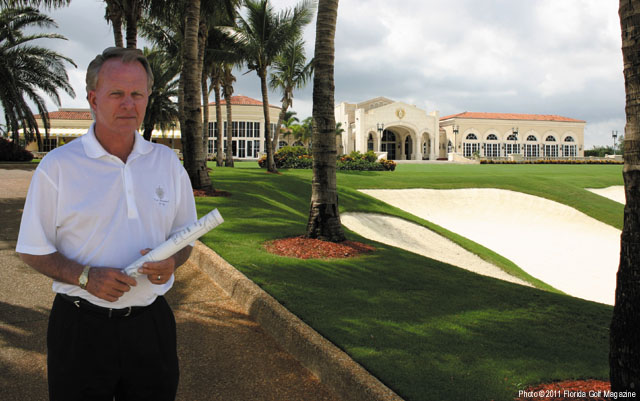 Golf Course Architect Jim Fazio, seen here next to the 18th Green in front of the Trump International Clubhouse.
In a 2005 interview with Florida Golf Magazine, we asked Jim Fazio, FGM: "How did you get the job designing the golf courses at Trump International Golf Club?"
3 million cubic yards of dirt were moved building the 1st 18 holes.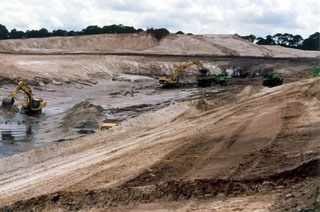 "The Trump Course Project started in 1997 and opened in 1999", said Jim Fazio. Donald Trump called me one day and introduced himself and told me that a friend of mine had recommended me to design a golf course for him in New York. He asked me if I wanted to do it. And I told him, 'sure I'll take a look at it.'"
Jim elaborated, "He then told me what he was thinking and what his wishes were and I said well, 'let me go see.' So I went up and looked at all of the land that he acquired. I came back, did a plan and showed it to him."
"He liked the plan", said Fazio. He asked me what I thought. I said, 'Well, you have 16 really good holes and two 300 yard par fours.' I said, 'You can't come up with a great golf course with the first two holes being 300 yards.' He asked, 'What would you do?' To which I said, 'I would go across the ravine there and buy that house and knock it down and put the first hole and the second tee over there. Then you'd have two great starting holes of 400 yards each. Then you'd have a really great golf course.'"
"The land originally had a golf course on it which we blew up. It was called Briarcliffe Golf Club." Jim continues, "he took it over out of bankruptcy and ran it as a private club prior to demolition. He used to play it every weekend, so he knew the land very well. And, he knew there was a 100 feet deep ravine there that a creek ran through, and he knew exactly what I was talking about while I was speeking to him.
He called his manager up and said, 'go over and make an offer on that house across from the golf course on the first hole. I want to buy it.' I'm listening to him do this while I'm still on the phone. That was first time I witnessed the way Donald Trump moves. Needless to say I was amused by it. To think that a guy could just call up and say, go buy a million dollar house and then tear it down and move part of the golf course over there. Not many people are able to do that or would want to do that."
"Trump then said, 'I'm just a little bit upset that I didn't think of that instead of you.' So he got the land and then also bought the land next to it. So now we have 4 holes across the ravine. It made the front nine so spectacular and hard that we had to make it the back nine so people would have a chance to warm up before playing it." Jim Fazio then proudly said , "From what I understand it got the highest slope and course rating in the state of New York and many acolades for being one of the best courses in the state."
"I was back in Florida while we were still in the permitting process in New York, when I got another call from him. He said 'I want to build a course in Florida, in West Palm Beach. Would you be interested in doing it?' I said, sure I live here. I'm only twenty minutes away. I could be there every day. He asked "what would you do that no one else would do"? I said, I would elevate it. I would raise it up in the air. Every Florida-style golf hole has already been designed and built. I'll make it look like it doesn't even belong in Florida. That must have done something to him, because right on the phone he said, 'OK you've got the job'."
During an interview in 2004, Jim's younger brother and competitor, golf course architect Tom Fazio, told Florida Golf Magazine that the most important feature of a potential golf course design project is the Client. Tom Fazio said, "With today's technology we can move enough dirt to do almost anything, if the owner is willing to spend the money." This being said, it's plain to see that his big brother Jimmy won the proverbial jackpot when Donald Trump decided he would be the lucky golf course architect that got to design the course for the ultra private Trump International Golf Club.
Trump International's driveway lined with Royal Palms

Jim Fazio then gave us some background information about the design process of the course. Jim said, "The first time Donald Trump discussed his plans for Trump International with me, he told me 'I want an elegant driveway to the clubhouse that goes straight uphill so I can make it look like Royal Palm Way, and I want a tough first hole. I want golfers to know where they are when they come here, and what they are getting into.'"
"The first hole is very challenging, said Fazio. "It starts up on a high teebox, and hits down on the fairway below you. It's a 475 yard long slight dogleg right par 4. There's a creek that runs along the right side of the tee, down the fairway past the dogleg. The green sets uphill, so you have an uphill shot to the green with the prevailing wind normally blowing in your face.
It's bordered by trees on both sides so you are unable to see any other holes from the tee. Due to the length, and because of the bunkers on the left at the dogleg and the creek on the right, good players will start by hitting over the right side of the fairway and drawing the ball in. If they try taking it down the left side and fading it, they risk hitting it in the bunkers, and then they'd have a really hard shot. You can advance it out of the bunkers, but probably couldn't get it to the green from there.


The 1st Hole. 475 yards from the back tees, the par 4, #1 Hole, has a creek along the right side of the entire length of the fairway. A drive to the left sets up a long approach to an elevated green, protected by a deep swale front and right.
It's one of the hardest first holes that you'll find on any golf course in the world. Starting holes are usually designed so you can get warmed up, miss a shot and still make par or bogey. That is not this golf hole by a long shot. The 1st hole at Trump International could be the 18th hole at any golf course anywhere in the United States due to the difficulty, but it's a great looking golf hole, with the big oak trees on the left, coconut trees by the creek, and you can hear the trickling of the water while standing on the tee."
Architect Jim Fazio also explained for us how he took into account for wind in the design strategy at TIGC. Jim told us, "We designed the hard holes against the favoring wind, so then when the wind turned around we still had some holes that were deterred by that wind, so it keeps the course balanced. Especially since all the par 5 holes run in different directions. All our par 3 holes also run in different directions. We also have a lot of uphill shots and downhill shots. Trump International has a real variety, it's not a typical Florida Golf Course. I think that's what make it so unique and special."
Regarding Mr. Trump, Jim said, "It was so much fun to build this course because the owner never asked, were we spending too much money. He always asked, 'Do you need anything else?' Those were his words every time he came out. Working for a guy like that is fun, because he doesn't stifle the creative process."
Mr. Fazio described his ongoing work on the course. "Every year we'll tweak the course here or there, but there's never any major changes that we have to make. Maybe add a tree here or there, or widen a bunker out, to narrow a fairway, but that's about it. We have all the ingredients here for a really great golf course."
The 215 yard, par three #17 at Trump International Golf Club in West Palm Beach, Florida.
"The whole project," Jim explained "which took over two years to do, is probably the most fun I ever had building a golf course. I never really thought about the pressure I was under to build a great golf course. Using too much money never entered my mind until a couple years after it was finished. Trump really put me under the gun by giving me that much money and saying, 'Give me the best that you can do', and 'how good is it going to be?'"
Jim continued, "My uncle, George Fazio, used to say 'Never worry about anything, just work through it and keep going.' So we just worked every hole, every angle and looked at it every day for a solid year after we moved the dirt and the trees. So if there were any changes to be made, we made them while we were there, when it was easy to see it right away. As far as I'm concerned, I don't know how it could have turned out any better. Nor do I know how we could have spent any more money without it making it look gaudy."
"One of the things that helped make this course so good was that we started with a clean slate and were allowed to do almost anything we wanted," Jim cheerfully acknowledged. "After deciding the routing, we moved over 3 million cubic yards of dirt using a rough grading plan. We never did a final finish plan at the start of the project, so the finishing features of every hole were decided on, and built on the job as we went along. Designing as we went along, deciding on one feature at a time, is what made the golf holes so unique, because we could do anything we wanted to them while we were building them. We weren't stuck doing anything because of a finish plan."
"we were able to move so much dirt because Donald Trump was the owner," admits Jim. "It's nice when the owner says, 'Do you need more dirt? Do you need more trees? Do you need more pipe?' He was willing to do anything it took to make this a spectacular course. A lot of times I had to tell him, 'no we don't need any more of this, we don't need any more of that. Too much of one thing may be too much.'"
"As a result," said Jim, "We have a blend of everything we needed. We have rock features, water features and they flow throughout the whole golf course so you're never really surprised when you see something else, because you saw a little taste of it on this hole and another little bit of it on that hole. That's what really makes a golf course blend and flow like this. There are no real surprises, and also it all looks natural because of the hills and slopes that we have."
"We started the job," he continues, "and it took us one year just to transplant 5,000 trees, move 3 million tons of dirt and build the lake system. The Department of Environmental Resources (ERM) told us we could only clear 50 acres at a time. It was sketched out into seven sections. We had to go in and label all the trees and move what we could. What we knocked down, we had to mitigate. We also relocated over 60 Gopher Tortoises. It was a long drawn out process, the longest one I've ever been involved in."
"We started building the golf course after that." Jim explained. "I was actually in charge of the shaping and finish grading on that project. I was there every day with my son, Jim, who was operating the dozer and doing the detailing after we got it roughed in. Together, we actually built all the greens, bunkers and tees. That's how that golf course was built, day by day."
Jim Fazio was enthusiastic as he described the day by day endeavor. He said, "Then, we had to figure out where we were going to put all the water features. One of the hardest parts was building the water feature at #17. It took nine months and cost 2.5 million dollars, with all the work we had to do around it, and on the feature itself."
"The next hardest job was building the cart paths, trying to hide them between mounds and getting the concrete trucks up these hills. We had a special dozer we rented just to pull the concrete trucks in and pull them out. The concrete we used had Chattahoochie stone aggregate and was twice as expensive as normal concrete. Plain old concrete wasn't good enough for Donald Trump."
The trees are magnificent on this course, and Jim gives us some background about them. "We bought and moved 1,000 oak trees from out near Lake Okeechobee. It took us five months to move them all in. These were 20 to 40 ft. oak trees. They had to wrap them, and they could only haul three of them at a time. The landscaper would bring them in and drill a hole in them and pick them up to place them. I would place each tree after the hole was shaped. This way we got our tree lined fairways. We also stuck some trees out in the corners for targets for shot angles and stuff like that."
This painstaking work with the trees continued, as Jim explained, "Then we bought more than a thousand royal palms to line the outside of the property. We lined the driving range with them, and around the clubhouse to give it that formal stately look. We didn't use them on the golf course, because to me they don't look natural. We also bought 1,000 coconut trees. Coconut trees go great on the golf course. They hang over the lakes. They hang over the tees. Things like that make it kind of neat. Like when you go up the cart path on 17, you're going through a coconut trail."
Jim Fazio concedes, "I know we spent 2 million dollars on the little plants that give the place color. That's a lot of plants. There's so much variety and color in the plants, lakes, streams, creeks and waterfalls, people spend time taking pictures and forget to play, simply because they've never seen anything like this in Florida. The golf course by itself probably cost 8 million. And the water features and the trees cost another 8 million. I would say without the clubhouse we spent 25 million. I know he (Donald Trump) always says everything cost 40 million, but I'd guess it cost a little more than that.

---