Florida Golf Magazine
Winter 2006 Contents:
Pg. 6 World Golf Hall of Fame to Honor Gary Player in 2006 Special Exhibit

Pg. 8 The Scoring Irons, By PGA Master Professional, By Dr. Gary Wiren, PH.D

Pg. 10 Technically Speaking: MOI (Moment of Inertia) A Measure Of Forgiveness, By Frank Thomas

Pg. 14 The 2005 ADT Skills Challenge, Paula Creamer Joined Annika Sorenstam, VS. Men At 2005 ADT Skills Challenge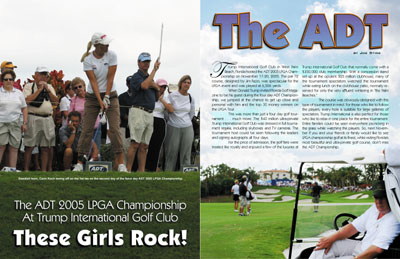 Pg. 16 The ADT 2005 LPGA Championship at Trump International Golf Club, By Joe Stine

Pg. 20 LPGA Tour Sets Millionaire Record In 2005

Pg. 24 LPGA-USGA Girls Golf, Making a Difference

Pg. 34 Medical Mulligans: Take A Hike, By Andy Dombro M.D. Internist & Student of Golf

Pg. 36 Bunker Play, By Scott Sackett at PGA TOUR Golf Academy

Pg. 38 Palmers Course Design Announces Opening Of Golf Course At The Tesoro Club In Port St. Lucie

Pg. 40 Florida's Favorite Top 30 Golf Courses Results of Florida Golf Magazine's 2005 Readers' Choice Survey.

Pg. 41 Golf Product Reviews Featuring: UpLink's INOVA integrated dashview GPS and car control solution

Pg. 44 Einstein's Golf Lesson: One Thing at a Time! By Anne M. Cain, LPGA Class A Teaching Professional

Pg. 46 Doral Golf sundresses Resort & Spa & Greg Norman In Miami: Team-Up to unveil "New Look" Great White Golf Course

Pg. 47 Get in the Zone! S.C.O.R.E. Self-discipline, Concentration, Optimism, Relaxation & Enjoyment, By Jim Fannin

Pg. 48 The 2005 MBNA WorldPoints Father/Son Challenge at Championsgate Golf Resort, In Osceola County
Exclusive Interview:

Pg. 26 A Round Of Golf With Donald J. Trump at Trump International Golf Club, By Joe Stine